Woohoo!! My first post, I'm so excited!!! :D
First off, I want to extend a big thank you to Gabrielle for finding the name of my new blog! Thanks sweetie!!
Second, I thought I'd tell you a little more about me. I've been a competitive swimmer (the kind with the super high-tech suits!) for almost 20 years now. Granted the early years weren't that serious, but training over 20 hours per week has been my life for a long time now and I still thoroughly enjoy it! Besides swimming, I'm currently a Ph.D. candidate in computer science where I work in the graphics field to synthesize true-to-life images on a computer. As if my life wasn't full enough already, I stumbled upon the nail board over at MUA last January and discovered a new (and addictive) hobby! Starting from around 10 bottles, my stash has now grown to 60x that!! And I've also recently been introduced to the joys of Konad by a couple of my NB friends... I think that's how you spell trouble! LOL
Well, that's enough about me for now, so I'll end this first post with my last NOTD which I haven't replaced yet as I ended up doing quick and dirty swatches until very late last night ;-) The base is 3 coats of Precision Crème de la Crème topped with 1 coat of ChG Tinsel. CdlC seems like a very nice white to use for layering :) The Konad design is using Art Club Azul, a gorgeous medium blue shimmer. I hate winter, but this seems like the perfect mani to go with it!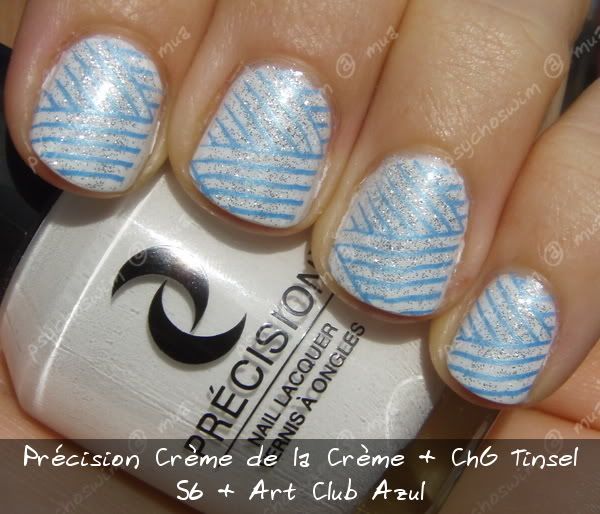 One last thing, please let me know if you ever have suggestions about cool things to add to my page, or if you have requests! See you all soon!